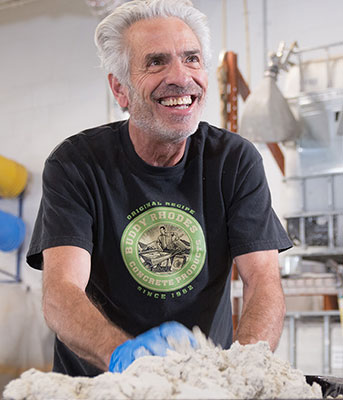 This immersive 3-day training focuses on Buddy Rhodes' techniques and varied styles associated with our concrete mixes and accessory products. You will be taught by and work side by side with the original concrete artisan, Buddy Rhodes, along with the entire team at Buddy Rhodes Concrete Products. Hands-on projects, slides, videos, and group discussion will introduce you to the basics in an easy to understand format. Topics include:
Overview of Buddy Rhodes Concrete Products
Product Selection: What Mix Is Right for You and Your Project?
Learn the Buddy Rhodes Signature Press Technique Using Craftsman Mix
Experience Sprayed Glass Fiber Reinforced Concrete Using GFRC Blended Mix
Learn How to Properly Mix, Modify and Cast ECC Blended Mix
Try Your Hand at Carving Buddy Rhodes Vertical Mix – The Newest Addition to Our Product Line
Preparation: Shop Set Up, Equipment, Safety, Production, Installation Tips
Learn How to Use the Buddy Rhodes Color Wheel, Including Integral Pigments and Topical Glazes, to Achieve Unique Color Finishes
Using Plasticizer, Reinforcements and Other Additives
Overview of Templating and Form Building for Countertops
How to Attain Maximum Strength through Proper Curing Techniques
Achieving the Perfect Finish: Sanding, Honing, Wet vs Dry Polishing
Learn About What Can Go Wrong Along with Common Mistakes and How to Avoid Them
Sealers: We Take the Mystery Out of Selection and Application of Our Most Popular Sealers
Limited Class Sizes for Maximum Learning Experience:
We limit the size of our classes to maximize everyone's learning experience. You are never without someone to guide you. Whether you are a beginner or already experienced with concrete, you will be inspired and understand the way these artisan materials can make you successful. Use the knowledge you gain to make a DIY project or help start an artisan concrete business. Bring Your Questions. Let's Discuss Your Project.
You Will Mix and Make Your Own Concrete Castings:
Buddy Rhodes Concrete Products' Technical Team will guide you as you learn and discuss the basics of concrete casting. We will complete various group projects and you will cast your own pieces on Day 1 and Day 2. Castings will be used on Day 2 and 3 to showcase finishing techniques and sealers.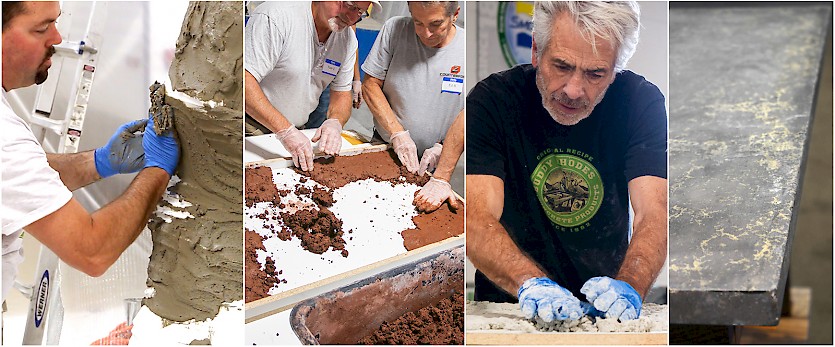 Buddy Rhodes Concrete Products provides lunch and light refreshments. Call (877) 706-5303 or (610) 252-5800 for more information. Due to the popularity of these seminars, slots are booked on a first-paid, first-in basis. Class size will not be increased.
2019 Seminar Schedule
May 14, 15 & 16 - Buddy Rhodes - Intro to Artisan Concrete Casting (SOLD OUT)
Important: Must be 18 years or older to participate. In demonstrating concrete products and techniques, we emphasize safety and provide adequate ventilation in our classroom. However, we use materials that may affect certain individuals. If you are pregnant or suffer from breathing disorders (such as asthma), you should not take this class. It is recommended, and we request that you wear long pants (no shorts) and close-toed footwear.
Cost of Seminar per person
Intro to Artisan Concrete Casting with Buddy Rhodes - $675.00
There may be a chance that the seminar for which you are applying will be full and unavailable by the time your order is received. If this happens, we will notify you and ask that you select another date.
You are not confirmed in a seminar until you receive a seminar confirmation package from the Seminar Coordinator. Please call (877) 706-5303 or (610) 252-5800 for more information.
We will send you a separate confirmation letter that your place in the seminar is secured. We will also send you additional information about the class, directions, hotels and other information.
Seminar Refund Policy: We limit class size to maximize the learning experience. Once a class is filled, further applications are not accepted. If you cancel your reservation, we will make an attempt to find someone to attend in your place. If we are successful, we will issue you a credit to attend a future seminar. If we are unable to find a replacement attendee, you forfeit your tuition money. Refunds will not be made for any reason.
Important: All seminars are held at
1725 Willow Lane East Texas, PA 18046 For information, call (610) 252-5800
Click Here for Directions and Map - How to Get to Smooth-On