Randall Dana is well known for his passion. Mr. Dana's passion is restoring gargoyles and other architectural ornamentation from19th century buildings slated from demolition. At one point, when Mr. Dana lived in New York City, he had salvaged artifacts from more than 500 buildings, including the collapsed Broadway Central Hotel, the Women's House of Detention and the Architects Building, where the firm McKim, Mead & White had its offices.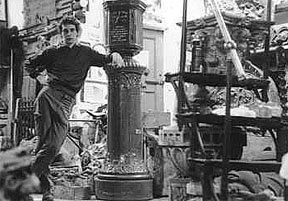 Altogether, he had amassed more than 500 pieces, all of which he meticulously catalogued and hung on his walls like hunting trophies. By the time Mr. Dana moved to a loft in Park Slope in 1982, his collection had become a growing burden. The challenge of storing items in friends' apartments and other parts of the city was becoming financially and logistically burdensome. In 1984, he sold his prized possessions including his 50 tons of keystones, cameos, friezes and spandrels, and left New York, moving first to Vermont, then to Oregon, and most recently to Iowa, where he lives today.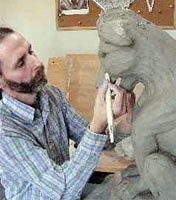 Over the years, Mr. Dana learned to reproduce his treasures out of clay, creating hundreds to replicate the originals that once surrounded him. He currently operates a Web site (urbansculptures.com) chronicling the 19th-century buildings, which became the casualties of the 1970s. When it came time to choose the ultimate rubber for molding his creations, Rebound 25 clearly stood out above the rest.
"(A competitor's silicone) came recommended to me by a colleague on a professional sculpture forum, I became pretty disappointed with it but pegged it as being the best around. In many ways it was better than the urethane I used before that, but I noticed it tended to tear REAL easy. The last straw was last week when simply pulling molds off tore them, and I was NOT the least bit harsh in handling them!
I was really impressed with the Rebound's strength, and after only 6 hours and my TRYING to tear it. Even where it was paper thin and translucent I had difficulty tearing it. I should have tried Smooth-on a lot sooner but I had gone strictly by the tear numbers and the (competitor's silicone) had a higher number, but I'm skeptical now if their published figure is even real- especially after comparing the two products in a tear test."