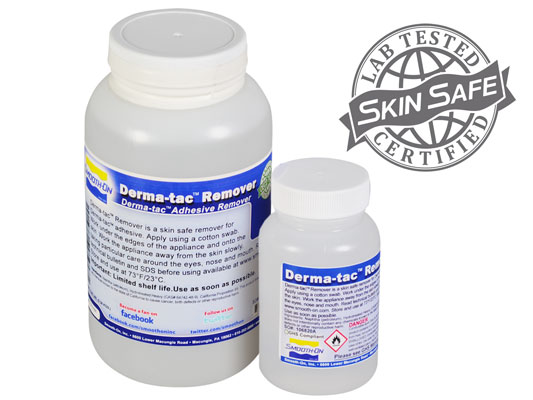 *NOTE: Product Packaging May Vary
Derma‑tac™ Remover is an easy-to-use one component liquid that will dissolve Derma‑tac™ and aid in removing appliances from the skin.
Derma‑tac™ Remover is skin safe and certified by an independent laboratory. This is a low odor formulation which is cosmetic grade and non-irritating.
Instructions
Appliance Removal Using Derma-tac™ Remover - Apply Derma-tac™ Remover using a cotton swab, cotton ball or suitable makeup brush. Work the Derma-tac™ Remover under the edges of the appliance and onto the skin. work the appliance away from the skin slowly, taking particular care around the eyes, nose and mouth.
Once the Derma-tac™ has been removed, the skin should be cleaned and moisturized using a cosmetic cleanser and moisturizer.
---