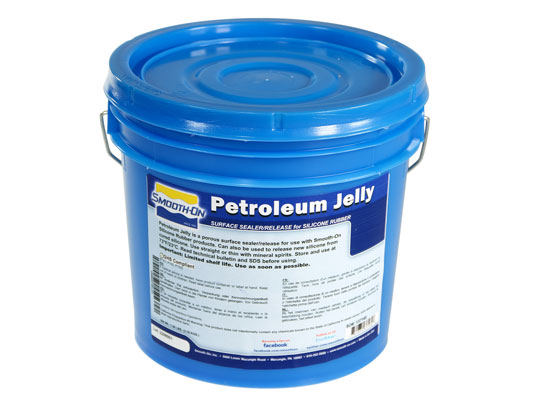 *NOTE: Product Packaging May Vary
Petroleum Jelly is a porous surface sealer/release for use with Smooth-On Silicone Rubber products. Use straight or thin with mineral spirits. Petroleum Jelly is particularly useful in silicone-to-silicone applications such as making two-part molds or casting silicone into silicone. Store and use material at room temperature (73°F/23°C).
Instructions
Petroleum Jelly works as a sealer/release agent either straight or thinned with mineral spirits. Thinning with mineral spirits allows for a very thin layer to be applied to surfaces, helping to retain surface detail.
Using Petroleum Jelly Straight - Apply Petroleum Jelly to surfaces using a soft, disposable brush. Ensure application is even, and there are no clumps of Petroleum Jelly on model or mold surface.
Thinning Petroleum Jelly - Petroleum Jelly can be thinned with mineral spirits to allow for a thinner application of sealer/release agent. Observe all safety precautions when handling combustible or flammable solvents.
Recommended ratio of Petroleum Jelly to mineral spirits is 1 part Petroleum Jelly to 4 parts mineral spirits by weight. This ratio can be adjusted per end user preference.
Apply a thorough thin coating of Petroleum Jelly and mineral spirits solution over entire model or mold surface and surrounding forms including intricate detail and undercuts. Let dry for 5-10 minutes.
Because no two applications are quite the same, a small test application to determine suitability for your project is recommended if performance of this material is in question.
Important: Discoloration of model surface may occur. If compatibility between Petroleum Jelly and model surface or Petroleum Jelly and a particular mold rubber is a concern, a small-scale test should be made on an identical surface prior to use.
---