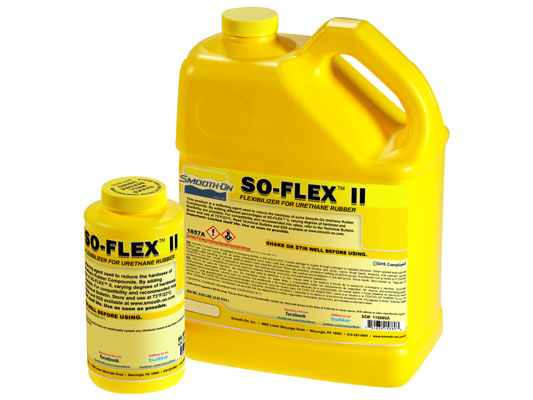 *NOTE: Product Packaging May Vary
SO-FLEX™ II is a phthalate free is a softening agent that will lower the cured durometer of a variety of Smooth-On flexible polyurethane products. The following charts indicate the effect SO-FLEX™ II has on various fully cured (7 days at 73°F/23°C) urethane rubbers when added as a percentage of the total mix.
Instructions
Safety – Use in a properly ventilated area ("room size" ventilation). Wear safety glasses, long sleeves and rubber gloves to minimize contamination risk. Store and use products in a warm environment (73°F / 23°C). This product has a limited shelf life and should be used as soon as possible. Wear gloves and eye protection to minimize risk of contamination.
---
MEASURING & MIXING...
Use SO-FLEX™ II by weight: For best results, you should use an accurate scale to properly use SO-FLEX™ II. SO-FLEX™ II should be weighed and thoroughly mixed (at least one minute) with the appropriate amount of Part B before combining with Part A.
| Brush-On™ 40 | 100A:125B pbw | | | |
| --- | --- | --- | --- | --- |
| Part B | SO-FLEX™ II | Mix Thoroughly | Parts A | Shore A Hardness |
| 125 g | 0 g | Mix | 100 g | 40 |
| 125 g | 10 g | Mix | 100 g | 35 |
| 125 g | 20 g | Mix | 100 g | 30 |
| 125 g | 40 g | Mix | 100 g | 20 |
| PMC™-121/50 | 2A:1B pbw | | | |
| --- | --- | --- | --- | --- |
| Part B | SO-FLEX™ II | Mix Thoroughly | Parts A | Shore A Hardness |
| 100 g | 0 g | Mix | 200 g | 50 |
| 100 g | 15 g | Mix | 200 g | 44 |
| 100 g | 30 g | Mix | 200 g | 39 |
| 100 g | 60 g | Mix | 200 g | 31 |
| PMC™ 780 DRY | 2A:1B pbw | | | |
| --- | --- | --- | --- | --- |
| Part B | SO-FLEX™ II | Mix Thoroughly | Parts A | Shore A Hardness |
| 100 g | 0 g | Mix | 200 g | 80 |
| 100 g | 15 g | Mix | 200 g | 73 |
| 100 g | 30 g | Mix | 200 g | 69 |
| 100 g | 60 g | Mix | 200 g | 60 |
| Reoflex™ 20 | 1A:1B pbw | | | |
| --- | --- | --- | --- | --- |
| Part B | SO-FLEX™ II | Mix Thoroughly | Parts A | Shore A Hardness |
| 100 g | 0 g | Mix | 100 g | 20 |
| 100 g | 10 g | Mix | 100 g | 17 |
| 100 g | 20 g | Mix | 100 g | 13 |
| 100 g | 40 g | Mix | 100 g | 6 |
| Vytaflex™ 10 | 1A:1B pbw | | | |
| --- | --- | --- | --- | --- |
| Part B | SO-FLEX™ II | Mix Thoroughly | Parts A | Shore A Hardness |
| 100 g | 0 g | Mix | 100 g | 10 |
| 100 g | 10 g | Mix | 100 g | 6 |
| 100 g | 20 g | Mix | 100 g | 4 |
| 100 g | 40 g | Mix | 100 g | not recommended |
| Vytaflex™ 20 | 1A:1B pbw | | | |
| --- | --- | --- | --- | --- |
| Part B | SO-FLEX™ II | Mix Thoroughly | Parts A | Shore A Hardness |
| 100 g | 0 g | Mix | 100 g | 20 |
| 100 g | 10 g | Mix | 100 g | 18 |
| 100 g | 20 g | Mix | 100 g | 16 |
| 100 g | 40 g | Mix | 100 g | 12 |
| Vytaflex™ 30 | 1A:1B pbw | | | |
| --- | --- | --- | --- | --- |
| Part B | SO-FLEX™ II | Mix Thoroughly | Parts A | Shore A Hardness |
| 100 g | 0 g | Mix | 100 g | 30 |
| 100 g | 10 g | Mix | 100 g | 27 |
| 100 g | 20 g | Mix | 100 g | 20 |
| 100 g | 40 g | Mix | 100 g | 16 |
| Vytaflex™ 60 | 1A:1B pbw | | | |
| --- | --- | --- | --- | --- |
| Part B | SO-FLEX™ II | Mix Thoroughly | Parts A | Shore A Hardness |
| 100 g | 0 g | Mix | 100 g | 60 |
| 100 g | 10 g | Mix | 100 g | 55 |
| 100 g | 20 g | Mix | 100 g | 47 |
| 100 g | 40 g | Mix | 100 g | 36 |
Note: * Shore Hardness measured after 7 days at 73°F/23°C
---