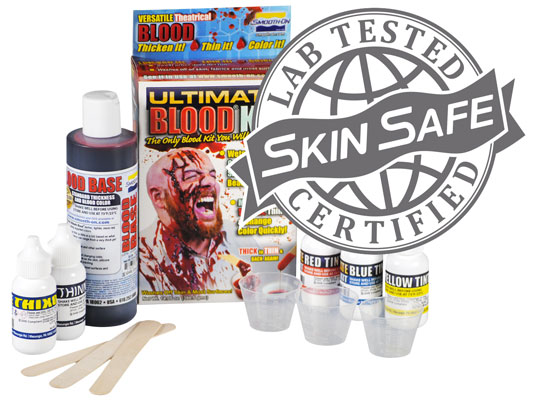 *NOTE: Product Packaging May Vary
The Ultimate Blood™ Kit is the most realistic and versatile liquid blood system available anywhere. It perfectly simulates human blood in how it looks and flows. Ultimate Blood™ is ideal for creating special effects, medical training and simulation, moulage or any project in need of highest quality theatrical stage blood. Ultimate Blood™ was tested and passed for skin sensitivity.

Ultimate Blood, Ultimate Control – Make it Thicker, Make it Thinner & Change Color. You can change the viscosity of Ultimate Blood™ on the fly. Change color quickly with color additives.
Instructions
Note: Ultimate Blood™ is not suitable for "in the mouth" use.
PREPARATION... Store and use at 73°F/23°C. Close containers immediately after dispensing. This product has a limited shelf life and should be used as soon as possible. If compatibility or effectiveness for your application is in doubt, a small-scale test is recommended. Humidity – Blood will take longer to dry in a humid environment.
DISPENSING & MIXING... Using Blood Straight – Dispense Blood Base into a small cup or onto a pallet and apply. Adding Thixo, Thinner or Color – For best results, always add a little at a time to the Blood Base to reach desired effect. Mix thoroughly with popsicle stick until desired color and viscosity are attained and apply.
APPLYING... Ultimate Blood™ can be applied in various ways (depending on viscosity) including brushing it on with a chip brush, smearing it on with a popsicle stick or even drizzling or splashing it onto the surface. When the vicosity is thin, it can be sprayed through a dispenser for splatter effects.
DRYING... Drying time depends on ambient temperature, humidity and thickness of the blood being applied. Average dry time is 15 minutes at 1/32" (0.8 mm) thick at 73°F/23°C. Dry time can be accelerated using a hair dryer on a low setting.
CLEAN UP... A heavy layer of dried Ultimate Blood™ can be removed by gently pulling away from the skin. Residual blood can be removed from the skin using hand dishwashing soap and water on a soft cloth. Remove from fabric by applying laundry detergent directly to blood stained area and lightly scrub with a soft cloth until blood shows signs of loosening. Add more detergent and let it penetrate fabric. Soak in cold water and detergent for 30 minutes prior to laundering in a washing machine using a cold water setting.
---