Buddy Rhodes™ Vertical Mix is an easy-to-use cement-based overlay that is easy to mix and apply onto vertical surfaces for creating various textures by carving, sculpting or stamping. This lightweight, zero slump formula is used for creating themed environments, zoos & aquarium displays, decorative panels and public sculpture. With Buddy Rhodes' extensive line of pigments, the color possibilities are endless. Buddy Rhodes Glazes can also be applied to the cured concrete to achieve a variety of color effects. Buddy Rhodes offers the only Vertical Mix available that has been tested and certified E-84 Class A flame-resistant.
Non-Toxic: Animal Friendly, No VOC's and Water Based
Flame Rated: Certified to the highest ASTM fire rating; E-84 Class A/1
Easy to Use & Versatile: Mix, apply and texture quickly over a variety of surfaces; easily colored with Buddy Rhodes Pigments & Glazes
Economical: Build large, lightweight, thin structures at a fraction of the cost
Lightweight: Up to 30% lighter than other concrete mixes with better coverage per bag.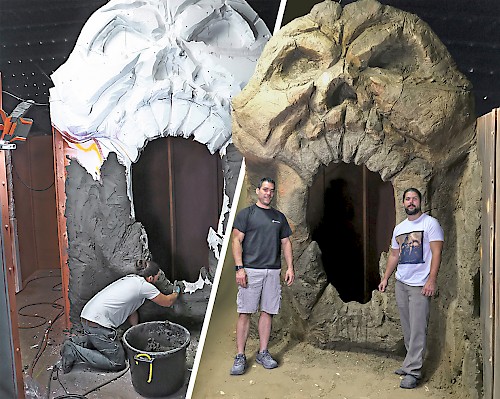 15 ft Skull Created By Fox Fine Arts for a Haunted Attraction at Six Flags America


150 ft long Bouldering Wall Created in Only 5 Days at Übergrippen Climbing Crag, Denver, CO

High Build Thickness - up to 4" (10 cm)


Highly Weather (freeze/thaw),
Water & UV Resistant
Theming Public Spaces: Great Outdoors RV Superstore
Requirements:
Be Competitive
Do It Fast
Use Flame-Rated Materials
The Great Outdoors RV Superstore in Auburn, NY wanted a themed reception area that projects their nature brand/image. Steve Millard of CNY Concrete (Mattydale, NY) was contracted to design/build a hyper-realistic rock scape with an integrated waterfall feature and selected Buddy Rhodes Vertical Mix as the material best suited for the job.
| | |
| --- | --- |
| 1. RAMP™ bonding primer and cure promoter is applied to carved EPS foam. | 2. Vertical Mix is blended with water and RAMP™ to a clay-like consistency. |
| 3. Vertical Mix can be applied by hand, trowel or mortar sprayer to a minimum ¾" thickness. | 4. Shortly after applying mix, texture can be added with rubber stamps and rollers. |
| 5. Use plastic, wood or metal sculpting tools to carve precise detail. | 6. Once cured, Vertical Mix can be subtly colored with Buddy Rhodes Glazes. |
Download the Buddy Rhodes Vertical Mix Technical Bulletin
Download the Buddy Rhodes Vertical Mix SDS
Download the RAMP Mix Technical Bulletin