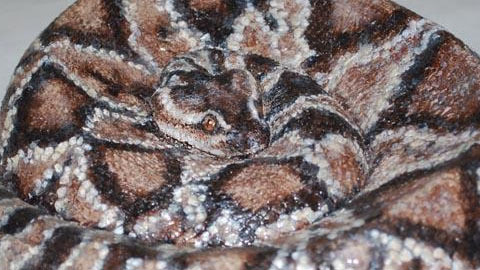 Overview
This Snake Won't Bite You... Maybe.
Silicone allows extreme realism, due to its translucency and ability to mimic actual flesh. On a recent job, Blair Benjamin from Rendering Realism (Niagara Falls, NY) needed to reproduce a rattlesnake for an independent film project. The piece had to be realistic enough to produce the level of detail captured by the High-Definition filming techniques used on the project and to appear 'alive' under studio lighting.
Blair chose Dragon Skin™ silicone, because of it's translucent nature. A mixture of Silc Pig™ silicone pigments was used to give the casting a fleshy base color.  The piece was cast into a Rebound 25™ platinum silicone mold, Ease Release™ 200 was used to release the casting from the mold with a minimum of release build up.
It is crucial to remove any release agent residue using a solvent to wipe down the casting. Blair demonstrates this technique as well as his unique painting style which creates a snake realistic enough to scare the neighbors!