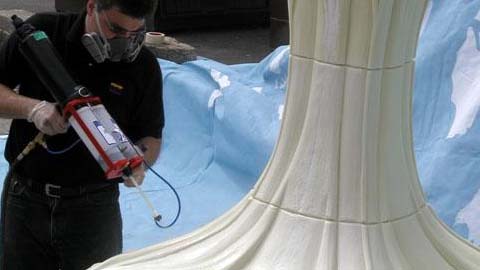 Overview
The Spoon Group (Rahway, NJ) is a world-renowned prop and set fabrication shop. Not only do they produce props and set pieces for television and commercial projects, but the Spoon Group has also created pieces for Broadway productions of Grease!, Legally Blonde, Xanadu, Phantom of the Opera, Les Miserables, Chitty Chitty Bang Bang, The Color Purple, 42nd Street, Chorus Line, Dracula, and many more.
For the Broadway production of Dracula, many large "marble" set pieces were needed. They had to look like heavy carved stone but also be lightweight enough to be "flown" on stage rigging between scenes. It was decided that carved foam would be used for the larger setpieces, but carved foam is notoriously hard to paint and very fragile.
Enter Styrocoat™ – Styrocoat sprayable styrofoam coating was used to give the carved foam set piece a rigid, paintable surface as well as increased strength. The EZ-Spray™ Jr. gun used to apply the Styrocoat is a very easy system to load and use, and the cartridge-based system means that there is virtually no clean up.