Smooth-On has announced 6 new bright color additions to its popular line of Silc Pig™ silicone color pigments called 'Electric' Fluorescents.  They are compatible with platinum and tin-cure silicones and were developed especially to be used with translucent silicone rubbers like Dragon Skin™, Ecoflex™, Mold Star™ 'T' series and Mold Max™ 'T' series.  When added in small amounts, they generate bright, vibrant fluorescent colors that cause cured silicone rubber to glow under ultra-violet light. 
They are used for a variety of applications including creating silicone rubber special effects, masks and props, cosplay effects, aquarium elements, medical device fabrication and more.
Silc-Pig™ Fluorescent Pigments are available in


Electric Blue


Electric Green


Electric Orange


Electric Pink


Electric Purple


Electric Yellow
"Devilfish" Silicone Mask by Immortal Masks using SilcPig™ Electric Pigents
---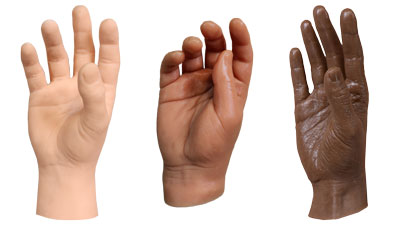 Smooth-On now has 3 flesh-tones in our offering of silicone rubber colorants.  Light Flesh (original Silc-Pig™ Flesh Tone), Medium Flesh and Dark Flesh tones are additions to the regular Silc Pig™ line up that artisans use straight in different concentrations or blend them to achieve precisely the color needed for a project.