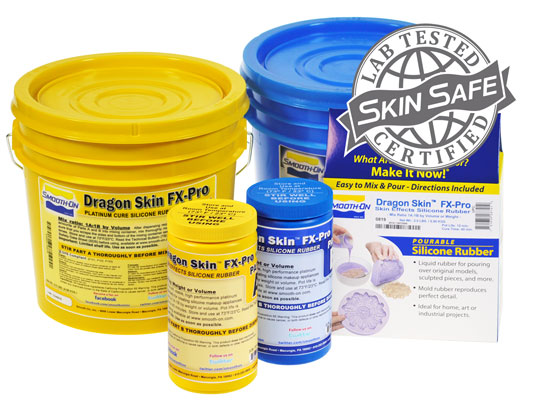 *NOTE: Product Packaging May Vary
Dragon Skin™ FX-Pro™ is a soft, stable, high performance platinum silicone rubber specifically designed for creating silicone makeup appliances and skin effects. Dragon Skin™ FX-Pro™ is compatible with Skin-Tite™ silicone adhesive as well as medical grade pressure sensitive adhesives for adhering silicone appliances temporarily to the skin. Soft and stretchy FX-Pro™ has a Shore hardness of 2A. FX-Pro™ can be combined with SLACKER™ deadening agent to create a very soft silicone gel for filling encapsulated silicone pieces. An infinite number of color effects can be achieved by adding Silc-Pig™ silicone pigments. Cured rubber can also be painted with the Psycho Paint™ system.
Instructions
Measuring & Mixing
Before you begin, pre-mix Part B thoroughly. After dispensing required amounts of Parts A and B into mixing container (1A:1B by volume or weight), mix thoroughly making sure that you scrape the sides and bottom of the mixing container several times.
Pouring
For best results, pour your mixture in a single spot at the lowest point of the containment field. Let the rubber seek its own level. A uniform flow will help minimize entrapped air. If using as a mold material, the liquid rubber should level off at least 1/2" (1.3 cm) over the highest point of the model surface.
Curing
Allow rubber to cure for 40 minutes at room temperature (73°F / 23°C) before demolding. Time to demold can be reduced with mild heat or by adding an appropriate amount of Plat-Cat™ cure accelerator (See Plat-Cat™ technical bulletin available at www.smooth-on.com for details). The pot life and cure times can be extended using Slo-Jo™ cure retarder (see Slo-Jo™ technical bulletin available at www.smooth-on.com for details). Do not cure rubber where temperature is less than 65°F / 18°C.
---