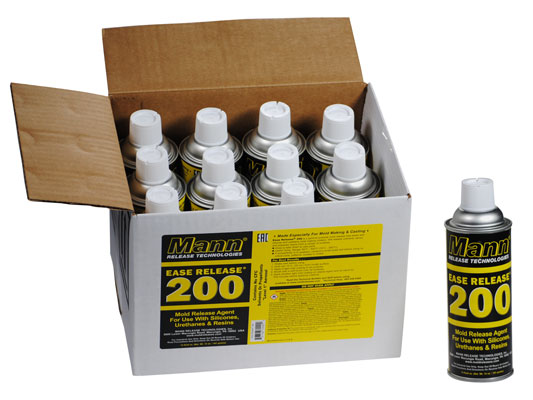 *NOTE: Product Packaging May Vary
Ease Release™ 200 is an excellent general purpose release agent for making molds and casting parts. This product will release polyurethane elastomers, epoxy resin, polyester resins, RTV silicones, rubber, and thermoplastic polymers. Ease Release™ 200 is effective on aluminum, chrome, RTV silicone, epoxy, rubber, and steel molds.
Instructions
Safety - Use in a properly ventilated area ("room size" ventilation). Wear safety glasses, long sleeves and rubber gloves to minimize contamination risk. Skin contact may cause dryness.
Store and use material at room temperature (73°F/23°C). This product has a limited shelf life and should be used as soon as possible.
---
SHAKE WELL BEFORE USING
Applying - Thoroughly clean your mold with Mold Cleaner 2508 or any suitable cleaner to remove all traces of previous coatings and oils. Apply Ease Release™ 200 using aerosol spray or spray equipment for bulk grades. Hold the can (or spray gun) 6 to 8 inches from the mold surface to ensure a light, even coating. When the molds are new or have been blasted with an abrasive, "season" the mold by applying a heavy coating of release. Heat the mold to process temperature, then wipe the excess with a rag and reapply a light coating of Ease Release™ 200 before a regular molding. Ease Release™ 200 is fast drying and requires no baking during the normal molding process. Reapply a light coating before each molding.
Finishing - Thorough cleaning of molded parts is required prior to staining, painting, or bonding.
---