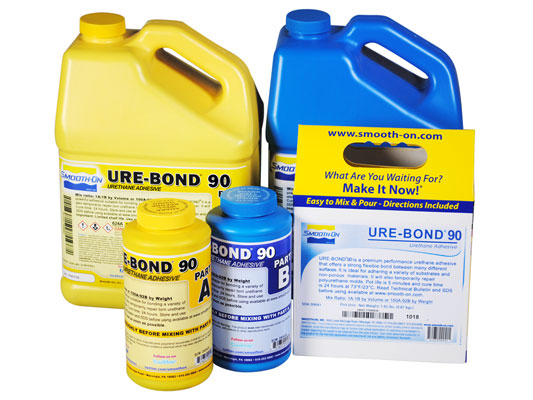 *NOTE: Product Packaging May Vary
URE-BOND™ 90 is a two component, slightly expanding urethane adhesive that offers a strong, rigid bond between many different surfaces. It is often used to bond segments of tooling board as well as other porous and non-porous, rigid substrates.
Working time is 8 minutes, handling time is 4 hours and full cure time is 16 hours at room temperature (73°F / 23°C). 
Instructions
PREPARATION...
Safety - Use in a properly ventilated area ("room size" ventilation). Wear safety glasses, long sleeves and rubber gloves to minimize contamination risk.
Store and use material at room temperature (73°F/23°C). This product has a limited shelf life and should be used as soon as possible.
Surface preparation - It is essential that the surface of both substrates to be bonded be absolutely clean and dry. Porous surfaces should be sanded until clean and any excess dust removed thoroughly. Non-porous surfaces should be degreased, dried and abraded by sanding, sandblasting or chemical etching - the etching being required for certain surfaces. Solvent wash the surface and let the solvent fully dry before applying adhesive.
---
MEASURING & MIXING...
Pre-mix Part B before dispensing and mixing with Part A. After dispensing equal amounts of Parts A and B into mixing container, mix thoroughly for 3 minutes making sure that you scrape the sides and bottom of the mixing container several times.
---
APPLYING, CURING & PERFORMANCE...
Pour or brush on to prepared surface. Position and affix other surface to substrate and clamp together for 4 hours. Cure time can be reduced by applying mild heat.
---
Related Categories: Adhesives