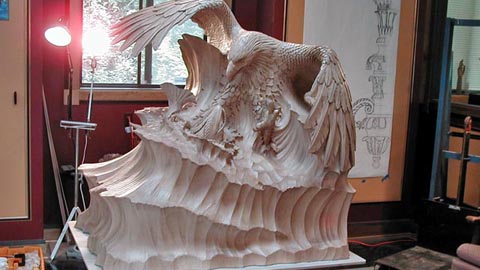 Overview
Dennis Collier Studios creates stunning designs in hand carved wood, and has been commissioned to sculpt pieces for prestigious architectural design firms such as Allan Greenberg, Johnson and Wanzenberg, and Robert A.M. Stern. His work is prominently on display in numerous United States Government buildings including the State Deptartment and White House.
Many times Collier's shop is called upon to reproduce the wooden sculptures in resin and/or bronze as well. The gallery below documents molding and casting of a highly detailed wooden sculpture, featuring an American Bald Eagle catching a fish. Since the wood sculpture could not be harmed in any way, it had to be molded with a very soft, yet strong rubber in multiple pieces.
After consulting with Smooth-On, the mold material choices were to use Mold Max® 10 silicone rubber thickened with Thi-Vex® II, and  to use Plasti-Paste® for the support shell.  After the mold is completed, it is then slush cast using Smooth Cast® 65D liquid urethane plastic on a custom made pivot-jig designed to accomodate this large mold.
View The entire Collier Woodshop portfolio by visiting: www.woodsculpture.com