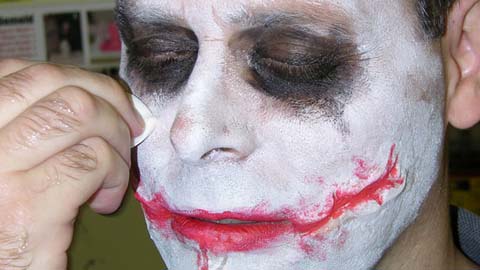 Overview
The Joker in the film 'The Dark Knight' is one of the most memorable screen villains of all time. His unique facial scarring and bizzare makeup has become very popular to replicate by fans of the film.
Using Skin Tite, these scars can be reproduced easily. While Skin Tite can be used to create these scars directly on the skin, the following is a technique illustrating how to make a rigid mold to create multiple prosthetic castings using Smooth Cast 300 and Skin Tite silicone.
You can also use the same resin mold for casting Dragon Skin or Ecoflex 00-30 silicone to make the scar appliances.
The makeup used in this demonstration is very inexpensive 'Halloween' style makeup, distressed to give a chaotic, weathered look to the performer.