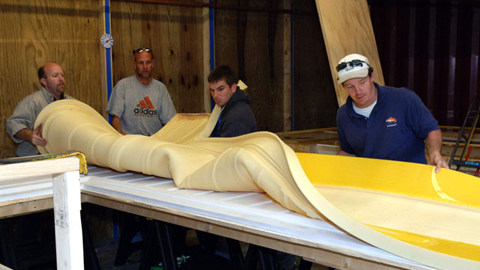 Overview
Smooth-On Materials Used As Part Of One Man's Vision To Bring Hope To Residents Of  Storm-Weary New Orleans

Deciding to leave after Hurricane Katrina wiped out much of New Orleans in late August 2005 was an easy choice that many people made. So much of the city was devastated and unlivable for so long. There was no electricity, no running water, and no sewage, supplies were hard to find, and food was scarce. The hard choice was deciding to stay and rebuild what was lost.

Chep Morrison was born and raised in New Orleans and loves this city. He was never one to run away when the going got tough and his philosophy remains to not give up on tough problems. In spite of losing a lifetime of investment in an 80 unit apartment building that was washed away by Katrina and many other difficulties that he and his family experienced after the hurricane, they stayed.
 
One of Chep's many talents is working with his hands. In his college days, he parlayed this talent into a thriving construction business by modifying college dorm rooms. After college, he took on the enormous job of revitalizing a run down 80 unit apartment building in a poverty-stricken neighborhood to begin a 'tenant farming' program. The goal of the program was to raise people out of poverty.
 
Following Katrina, Chep developed a modular casting concept incorporating pre-cast concrete walls to build low income housing structures. One of the many advantages of using concrete is cost. Chep's pre-cast concrete modular panel system is less expensive in terms of total cost (materials, time and labor) vs. other materials.
 
Another advantage is that concrete offers superior wind and water resistance, offering protection against storms as ferocious as Katrina. Concrete also resists the ravages of insects which regularly damage wood structures. 
 
Once his prototype structure is finished, he hopes to sell the concept to the City of New Orleans as a way to offer inexpensive, sound housing that can survive extreme weather to low income families.
 
The following sequence chronicles Chep Morrison's development of his first unit built at the corner of South Saratoga and Felicity Streets in New Orleans. The sequence features Smooth-On's EZ~Mix meter mix machine to mix large quantities of VytaFlex mold rubber. VytaFlex mold rubber was used to make rubber form liners that are being used to cast the modular concrete walls. 
 
Fact from 'US News & World Report' as of July 2008: The population of New Orleans, which dropped from 454,000 to 180,000 after Hurricane Katrina in 2005 has been increasing since and is now more than 300,000.