Free Form® Habitat® Flex FR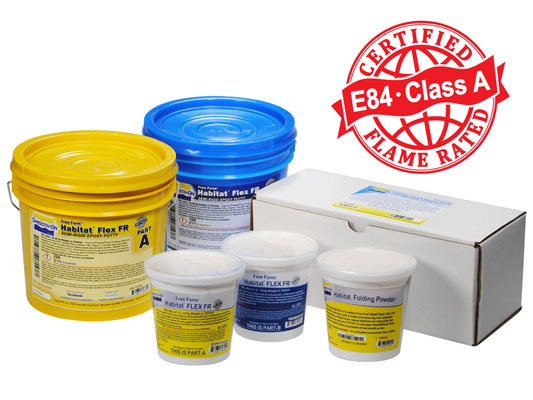 Free Form® Habitat® Flex FR Epoxy Putty is a mix-and-apply-by-hand putty that is that is certified flame rated (E84, Class A) and is used to create display elements that are semi-rigid and extremely tough. Habitat® Flex FR is solvent free and contains no VOC's. Working time is 90 minutes and handling time is 24 hours at room temperature (73°F/23°C). Cured epoxy has some flexibility with excellent impact resistance and abrasion resistance.
Use with Habitat® Folding Powder® – fold powder into epoxy putty to thicken and reduce sag when applied to a vertical surface. Folding Powder® also reduces stickiness and makes the epoxy more handle-able. Once putty is applied, it can be stamped with a silicone rubber stamp to create repeating patterns with intricate detail over a large surface area. Surface can be smoothed with alcohol or water. New Habitat® Flex FR will bond to cured Habitat® Flex FR without delamination.
Features
Habitat® Flex FR will bond to a variety of surfaces including foam, metal, wood, PVC, stone and more.
It is easy to paint with acrylic paints or stains.
Use to make perfectly detailed tree branches, vines, planks and other themed elements for zoos and amusement parks.
Because finished elements are semi-rigid, reptiles and birds can comfortably grip them without affecting the material.
Instructions
Measuring - Free Form® Habitat® Flex FR comes as two parts. Dispense equal amounts of Part A and Part B. These products have a limited shelf life and should be used as soon as possible.
Mixing - This product is mixed by hand. You must wear gloves when mixing this material, wearing vinyl gloves reduces inhibition risk. Knead parts together while Folding Powder® into mixture. The amount of powder to add depends on desired working consistency. The more powder you add, the thicker the mixture becomes. Fold mixture into itself repeatedly until desired consistency is attained (3-5 minutes or a minimum of 20 folds).
Applying - Apply by gloved hand to horizontal, vertical or inverted surface. Important; pot life and cure time are reduced with elevated temperatures
Stamp, Sculpt or Mold - Once in place, putty can be stamped using a rubber stamp (Rebound 25 silicone). Apply alcohol to stamp detail before using for precise detail and to keep stamp clean. Sculpt using gloved hands or tools. Putty can also be pressed into a silicone rubber mold to reproduce detail.
Smoothing Surface – Epoxy surface can be smoothed with water or isopropyl alcohol. Option; cover putty surface with clear plastic food wrap and smooth or sculpt with hand or tool. Leave wrap in place until material cures and remove. Cured surface will have a high gloss finish.
Curing - Habitat® Flex FR can be handled after 24 hours at room temperature. Full physical properties are reached in 7 days. In most cases, material will have a slight "tack" for up to 48 hours.