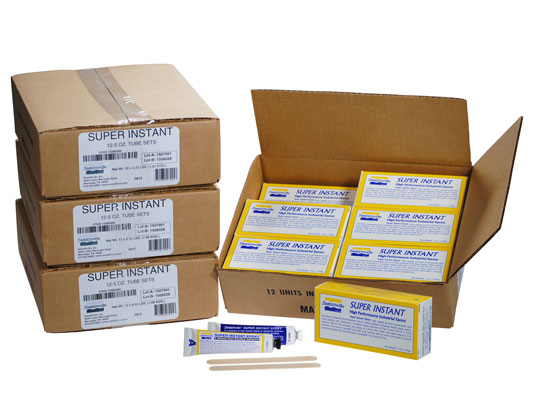 *NOTE: Product Packaging May Vary
Smooth-On Super Instant™ Epoxy is a two component, clear amber adhesive designed to provide rapid bonding. When mixed in equal proportions—either by volume or by weight—curing takes place quickly enough to permit handling in 5 to 10 minutes at room temperature. Super Instant™ adheres to metals such as steel, aluminum and brass, to wood, glass, masonry and many hard plastics.
Instructions
Safety - Use in a properly ventilated area ("room size" ventilation). Wear safety glasses, long sleeves and rubber gloves to minimize contamination risk.
Store and use material at room temperature (73°F/23°C). This product has a limited shelf life and should be used as soon as possible.
A clean, dry surface is a necessary prerequisite for adhesive bonding. Adhesives will stick to either the surface of which a bond is desired or to that film of extraneous material directly on that surface. Rarely can a structural adhesive penetrate through surface contaminants to provide an optimum bond on an unclean surface.
Porous materials are simple to bond, provided they are dry. The surface should be sanded till clean and free from dust. Non-porous surfaces, such as found on metal and plastic materials, should be degreased, dried and roughened by sanding, sandblasting or chemical etching. The etched or sandblasted surfaces should be covered within a few hours of treatment to prevent contamination. Handlers should wear clean cotton gloves to prevent body oils from contaminating the clean surfaces.
Epoxy adhesives do not perform well on metals such as nickel, chromium, tin or zinc nor on soft thermoplastics like polyethylene. Refer to the Preparation of Surfaces for Adhesive Bonding technical bulletin.
Because no two applications are quite the same, a small test application to determine suitability for your project is recommended if performance of this material is in question.
---
Measuring & Mixing - Squeeze out equal amounts onto a disposable surface and mix thoroughly. Mixing tools and containers should be clean and made of metal, glass or plastic. After dispensing required amount of Parts A and B into mixing container, mix thoroughly making sure that you scrape the sides and bottom of the mixing container several times.
---
Related Categories: Adhesives