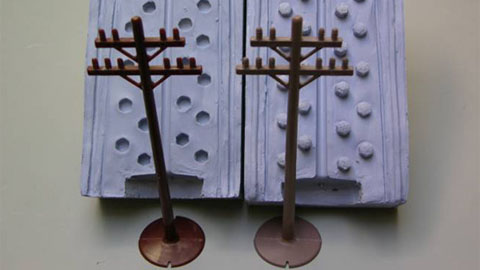 Overview
Mold making and casting gives model railroaders options for creating custom scenic display pieces. 
Model railroaders who have a passion for creating elaborate displays sometimes find that an "off-the-shelf" display piece just isn't good enough. Often, the piece they need was discontinued long ago or they want to create/modify an original.
Smooth-On mold making rubbers and casting plastics offer tremendous possibility and versatility for creating custom display pieces.
The following step-by-step sequence offers detailed instruction on making a two-piece block mold of a rail line telephone pole miniature, circa 1920. OOMOO® silicone rubber is used to make the mold. Perfectly detailed castings are then made using Smooth- Cast® 320 plastic. The process for reproducing this model is quick, easy and relatively low cost.