How To Mold a Captain America Cosplay Helmet Using Rebound™ 25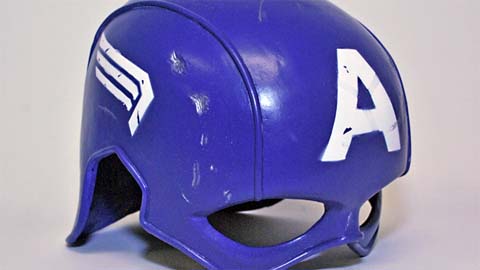 Overview
Justin Jotso of Jester Productions and FX (Alachua, FL) needed materials to make a replica Captain America helmet from the recent film for a customer. He shared his mold making and casting process with us using Rebound™ 40 silicone rubber to make his mold and Free Form® Air Epoxy Putty to make the rigid support shell.
The Rebound™ 40 mold was used to make 2 different versions of the helmet - rigid and flexible. The first helmet needed to be rigid and have a paintable surface for display purposes. Justin utilized EpoxAcoat® RED Surface Coat Epoxy that was then laminated using layers of EpoxAmite® 101 FAST Laminating Epoxy and fiberglass. The fully cured helmet was primed and painted. The second helmet needed to be worn as part of a costume and needed to be flexible, durable, and paintable. A surface coat of Smooth-Cast® 65D semi-rigid urethane resin was backed up with VytaFlex® 40urethane rubber to achieve these characteristics.
When asked about his experience with the materials used Justin said, "I'm switching all my molds over to Rebound 40. It works great and the library life is amazing!" For more information, please contact Justin here: http://jesterfx.com/
Materials Used in this Tutorial
EpoxAmite 100
EpoxAcoat
So-Strong Colorants
Rebound 40
Ease Release 200
VytaFlex 40
Free Form Air
Mixing Containers
Mixing Sticks
Gloves
Smooth-Cast 65D
Important Announcement
We are open. Smooth-On continues to manufacture and is maintaining normal levels of raw material / finished goods inventories. Considered an essential business as defined by CISA, we will continue to manufacture / ship materials during the COVID-19 epidemic. Smooth-On will be closed Fri Apr 10th in observance of Easter Weekend.