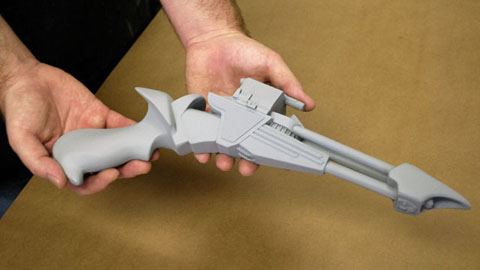 Overview
Running from 1987 to 1994, "Star Trek: The Next Generation" remains the most popular syndicated Sci-fi show in television history. Smooth-On rubbers, plastics, foams, etc. were delivered to the set of 'Star Trek - TNG' almost on a daily basis and were used to create a variety of special effects including making molds and castings of show staples such as space ships, themed environment elements, and props. One of the more popular props created by effects artisans was the 'Klingon Disruptor' pistol used in both the TV show and Star Trek movies. Following the end of the series, these props remain at the top of collector's lists.
Reproductions of TV and movie props are in high demand on the collector's market.  This tutorial outlines making a mold of a replica Klingon Disruptor pistol from the Star Trek television series.
There are a couple of challenges in this moldmaking application.  The barrel of the gun has a 'pass through' where the rubber can flow through and fully encapsulate the end of the gun.  A card stock shim will be used to eliminate this 'pass through'.  Also, the shape of the gun would lead to a large amount of wasted rubber if a standard mold box were used.  A 'spacer board' will help reduce the amount of wasted rubber in the mold box.
Once the final casting is sanded, primed, and painted, it becomes an exact duplicate of a screen-used prop weapon.