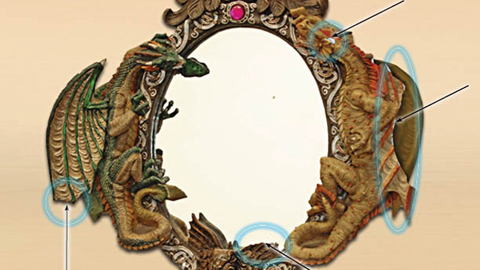 Overview
For over 40 years, Tim Bennett's hobby has always been treasure hunting at garage and yard sales. He often acquires sculpture or 3-D art that needs minor repair, restores it and sells it for a profit. Tim recently came across a mirror with a fantasy themed frame featuring two highly detailed dragons. Purchase price: $10.00. Damage to the frame was mild to moderate with some sections missing entirely.
Tim figured that he could make at least 10 times what he paid for the piece if it could be repaired and restored. He called the Smooth-On technical help line looking for options. Smooth-On had just introduced a new sculpt-able epoxy putty called Free Form® SCULPT. It is a sister product to Free Form® Air lightweight epoxy putty that Tim had used in the past for sculpture projects, to create lightweight masks, armatures and more. The new Free Form® SCULPT is more precise as a sculpting medium than the Free Form® Air and better suited for this type of project.
Note: The Free Form® Earth shown in this tutorial has been renamed Free Form® SCULPT.