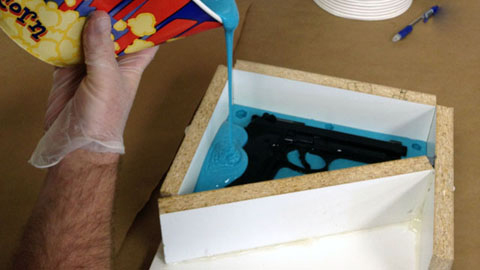 Overview
Tripel X Theming and Props (based in Sneads Ferry, NC) provides onsite special effects services to a variety of films and weekly TV shows. It is especially well known for providing hyper-realistic weapons props for several popular detective shows filmed in New York and Los Angeles.

Tripel X had a client that was experiencing unusually high breakage with their gun props. "The script for two consecutive episodes called for weapons to be thrown repeatedly at cops and bad guys on the set. What we were using was shattering", says Tripel X President, Art Burnette. 

Tripel X contacted Smooth-On and was steered towards TASK™ 16. Burnette states that, "the material pigments beautifully, cures quickly and finished castings are absolutely unbreakable. If our film customers are happy, we're happy. We wouldn't think of using anything else now".