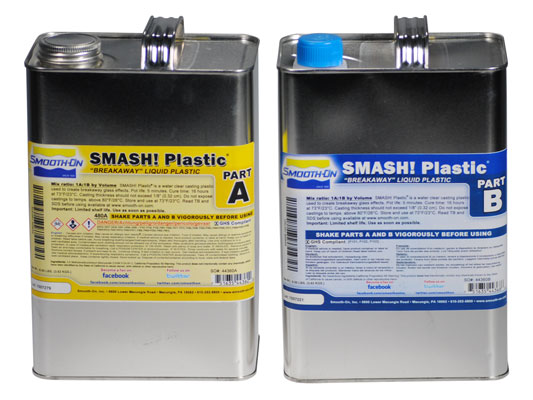 *NOTE: Product Packaging May Vary
SMASH! Plastic™ is a new urethane liquid plastic designed to shatter/crumble on impact ("breakaway glass"). SMASH! Plastic™ is water clear and, once fully cured, shatters like glass. It can be cast solid in thin sections to make window panes or rotationally cast to form hollow bottles, jars or other glass-like objects to be used as breakable props for movie and stage productions. Maximum recommended thickness is 1/8" (0.33 cm.).
CAUTION: NOT FOR HOME USE. THIS PRODUCT IS FOR INDUSTRIAL USE ONLY. With adequate local exhaust ventilation, respiratory protection is not normally required when using this product. Where risk assessment shows air-purifying respirators are appropriate, follow OSHA respirator regulations and European Standards EN 141, 143 and 371. Protective clothing (gloves and long sleeves) is required to minimize the risk of dermal sensitization. If breathing is affected or a dermal rash develops, immediately cease using this product and seek medical attention. Read SDS before using.
Instructions
Selecting A Mold Rubber - Casting into a silicone mold made with Smooth-On Mold Max™ Silicone or Mold Star™ 15, 16 or 30 platinum cured silicone (not Mold Star™ T Series) is recommended. Do not use other silicone products. If you are unsure about surface compatibility, a trial casting should be made. To prevent cure inhibition, post-cure newly made Mold Max™ silicones for 8 hours at 150°F/60°C and let cool prior to casting resin.
Measuring - Materials should be stored and used in a warm environment (73°F/23°C). This product has a limited shelf life and should be used as soon as possible. The proper mixing ratio is 100A:100B by weight or volume.
Mixing - Dispense equal amounts of Parts A and B into a mixing container and mix thoroughly for 90 seconds, making sure you scrape the sides and bottom of the container several times. If coloring or adding filler, add filler or tint to Part B and pre-mix thoroughly before adding Part A.
If vacuum degassing prior to pouring, subject mixture to 29 h.i.g. mercury in a suitable vacuum chamber for 2 - 3 minutes or until mixture rises, breaks and falls. Allow for 3 to 4 times volume expansion in mixing container. Do not vacuum too long, as this material gels quickly. Apply Universal™ Mold Release to mold surface prior to casting to ensure easy demold of fragile castings.
Curing - Important: Use this product with at least room size ventilation or in proximity to a forced outlet air vent and do not inhale/breath fumes. Fumes, which may be visible with a significant mass concentration, will quickly dissipate with adequate ventilation. Castings with significant mass may be hot to the touch and irritate skin immediately following cure. Let casting cool to room temperature before handling.
Pouring - Do not spill on skin. Pour material in the lowest spot of mold cavity and let material rise and seek its level.
Rotationally Casting - Pour material into mold and rotationally cast for 7 – 10 minutes. Estimating the amount of material you need to build 1/8" – 0.33 cm thickness on your rotationally cast piece may take some practice & experimentation.
Demold - After 90 minutes, plastic is cured enough to be removed from the mold. Plastic is very fragile, so be careful removing your casting from the mold. Applying Universal™ Mold Release to mold surface before casting should aid in removing the casting from your mold. The longer this material cures the more brittle it becomes, reaching full "brittleness" in 24 hours.
Creating a Glossy Surface - Applying a fine mist of denatured alcohol using a sprayer (such as the KWIKEE™ Sprayer) over the surface of a cast SMASH! Plastic™ piece will cause the surface to become glossy/shiny and enhance the glass-like appearance of a breakaway prop. Applying denatured alcohol will cause the surface to become temporarily sticky or tacky. Allow denatured alcohol to dry thoroughly until the surface of the casting is no longer tacky before using prop.
Temperature - When castings are exposed to temperatures above 80°F/26°C, they may soften and warp. Store castings at or below room temperature for 24 hours prior to use.
Usage - Inanimate Object: Let material cure for at least six hours prior to "smashing" against inanimate object (for example, on the floor, a wall, etc.).
Usage - On A Person: Before "smashing" a cast piece over someone's head, make sure that the wall thickness in all directions is not more than 1/8" – 0.33 cm. Also, let the material cure for at least 16 hours at room temperature to become fully "brittle".
Warning: Smashing a cast piece that is not fully cured or has a wall thickness greater than 1/8" – 0.33 cm against a body part may result in serious physical injury
---