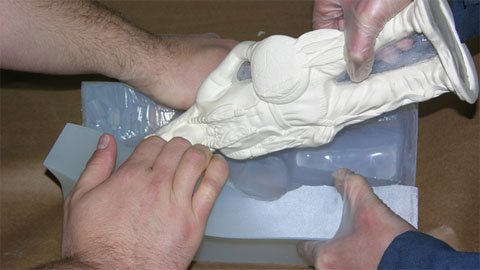 Overview
Customers often contact Smooth-On with specific mold making questions. One of the most common questions we're asked is how to create a mold from an original model that has a pass-through -- essentially a hole created by the configuration of the piece. Standing figures often have one or more of these pass-through's, usually between the legs or arms of the piece.  If the mold rubber is simply poured over the original model, it will fill these voids and completely encapsulate the piece in a solid block of rubber.  The original model would then have to be cut out of the mold rubber, which can be very difficult and is often imprecise. 

In this photo sequence, we demonstrate another strategy for dealing with a common type of pass-through.  This advanced mold making technique involves creating a "glue shim" that eliminates the need to cut the rubber away from the voids in the original model. Smooth-On's SORTA-Clear® 40 silicone mold rubber is used to make the process even easier.

SORTA-Clear® 40 is a premium water white translucent silicone rubber (platinum catalyst) that cures at room temperature with negligible shrinkage. SORTA-Clear® 40 has a Shore hardness of 40A and features exceptional tear and tensile strength.