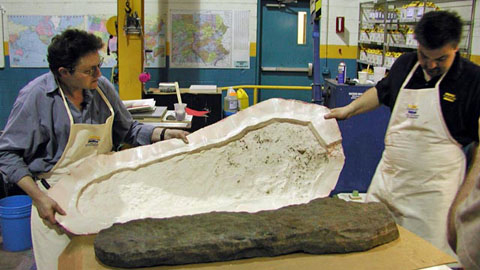 Overview
A-B Man was a Lanape Indian native to what is now Northampton County near Allentown, Bethlehem, and Easton, Pennsylvania. He lived from 1704 – 1804 and is the only known Lenape Indian Revolutionary War veteran buried among 282 veterans in the county.
"At the age of 75, he carried messages for General George Washington and served as a scout in the Revolutionary Army", said Donald R. Repsher, a retired Presbyterian minister of Moore Township and amateur historian. "When he reached [General John] Sullivan's army [in 1779], he joined others of his people who were scouting and protecting the army from being caught and attacked. He was probably about 5-foot 8-inches, tough as nails, even at the age of 75," Repsher said.
"As he neared the end of his life, he carved his own gravestone which was customary at the time. He included symbols that are deeply personal to his own life and probably unknowable to others. On the stone are several pictographs including a turtle, an eagle with spread wings, an image of an Indian man and a line drawn from a medicine wheel that may represent the doorway between heaven and earth."
The original gravestone has stood at A-B Man's grave since his death in 1804. After standing for more than 200 years in the elements, Man's original carvings were worn away and were barely recognizable.
Northampton County officials wanted to make a reproduction of the headstone for display at a local museum and were given permission to take it off site to have a mold and casting made. They contracted the services of Chris Blumquist, a local professional mold maker.
To follow is a chronology of the mold making and casting process.